Our clients are located in various industries and countries
Castinox manufactures products and supplies pieces for a large number of industries. Thanks to the multiple quality certifications which we have obtained over time, we are able to supply and offer our services in the most demanding markets.
Our export index is 75%, and we have a presence in very diverse markets, both in Spain and in Europe.
Countries to which Castinox S.A. exports its products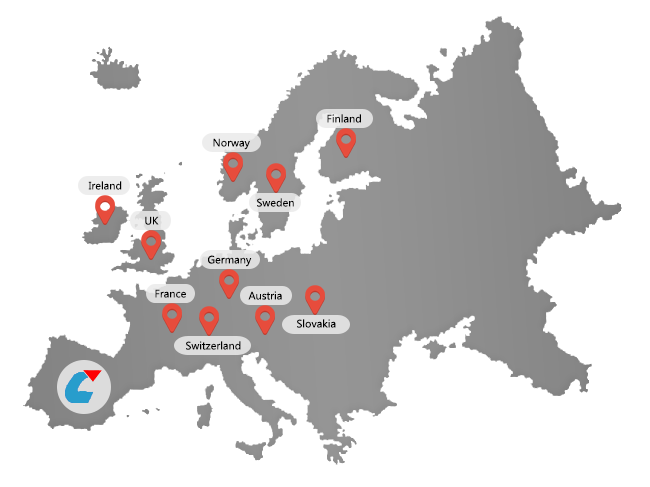 Fundiciones Castinox S.A. manufactures and supplies pieces for the following industries
Energy industry
In the energy industry, we have a presence in a wide range of different subindustries, such as: LNG (and Shipping), Off Shore + LPG, nuclear industry, hydraulic, biogas, and district heating & cooling. We have a wide range of clients in these industries, including: Westad Industri A.S, Lazaro Ituarte, Högfors OY, Ringo Válvulas, Talleres Aratz, S.A, Stafsjö Valves AB, Sistag AG, Coyard SAS (ICARUS) and Truflo Rona (IMI). Castinox is a main manufacturer in this industry of the following pieces: butterfly valves, cryogenic globe, check, and gate valve, ball, check, and gate valves, Kaplan, Francis, and Pelton turbine, and guillotine valves.
Food industry
In the food industry, we work for such clients as Coperion GmbH – for which we manufacture rotatoy valve components-, and Andritz Slovakia -which we supply with axles and lids.
Water treatment industry
In the water treatment industry, we supply rising plug and butterfly valves parts and pump components to the following clients: MTS (Victaulic), Friedrich Krombach GmbH, and Flowserve Austria GmBh.
Chemical industry
In the chemical industry we have large clients such as Coperion GmbH, Coyard SAS (ICARUS) and Somas Ventiler, for which we manufacture rotatory valve pieces and ball valve pieces, respectively.
Plastics industry
Coperion GmbH is our main client in the plastics industry. We supply them with rotatory and deviating valve components.
Paper industry
In the paper industry we have such clients as Naf AB and Stafsjö Valves AB. We manufacture ball and guillotine valve pieces.
Railway industry
Our main client in the railway industry is Amurrio Ferrocarril y Equipos S.A.
Mining industry
We have three large clients in the mining industry: Coperion Gmbh, Stafsjö Valves AB and Flowserve Austria GmbH, for which we respectively supply rotatory valve parts, guillotine part valves, and pumps.
Aeronautic industry
Our main client in the aeronautic industry is ITP.
Construction industry
In the construction industry, we manufacture plugs for our client: Cast Flow Valves, S.L
Our clients